This popular series will be predominantly in a Core Strength Vinyasa style, which will provide cardio, strength building, and burn some calories.
You'll learn some helpful movement tips, stress relieving techniques including Yin/Restorative yoga, gain valuable body awareness that can translate into healthy lifestyle and food choices, and learn one of the best kept secrets to feeling great about yourself and your body no matter where you are in your wellness journey.
---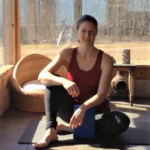 Lorrie Blockhus is the founder of Om Sweet Om Yoga, LLC in northern Wisconsin. She is known for her attention to detail and guiding students of all levels into their own perfect expression of each posture. She now offers a variety of Yoga styles that reflect her own evolving practice as well as that of her students. Regardless of style, her classes tend to have a foundation in anatomy and structural alignment which keeps students of all levels safe and focused in their practice. This also meets the beginning student in a place they can understand and physically feel and see. On a deeper level, her words and cues bring a more subtle spirituality that allows her students to transcend the physical body without a lot of confusing "mystical" language. Her intention is to help her students work both intelligently and intuitively to create stability, freedom, and growth in body, mind, and spirit.
---